News
Tuesday, 03 July 2012 14:02
Blue Sabine Reviewed in the Southwestern Historical Quarterly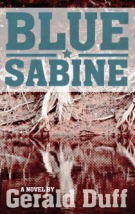 Calling Gerald Duff "a major literary talent," Steven L. Davis reviews Blue Sabine in the July 2012 issue of the Southwestern Historical Quarterly (Vol. 116, No. 1, pp. 106-107). Subscriptions to the Southwestern Historial Quarterly are a benefit of membership in the Texas State Historical Association (TSHA). To learn more about membership, click here. The following is an excerpt of the reveiw.

In this beautifully written, wondrously told novel by Gerald Duff, one family's personal history merges with the larger currents of Texan and American history, creating a twisting, turning narrative that is as aesthetically satisfying as it is historically resonant.

Blue Sabine follows several generations of the Holt family from their arrival to the Sabine borderlands in 1867 until the present day. The story is told by a succession of voices, most often the women of the Holt clan. The novel's structure presents the "testimonies" of these family members at six specific points in time: 1867, 1912, 1941, 1968, 1990, 2003. The ultimate effect is to illuminate the social history of this corner of Texas, from a time when scattered remnants of the Native American population still wandered the forests until today, when you can "feel that bite" of "petroleum and chemicals in the air" (290).

In 1912, we get a clear look at the complex, nuanced nature of race relations through the eyes of one of the Holt sisters, Maude, who is on her way to assist an African American woman, Joleen, whose husband is being hunted by a lynch mob. Maude recalls how she met Joleen as a child at a secret spring, where the two shared the water, a simple act of friendship that takes on symbolic importance in a land ruled by Jim Crow. When Maude told her mother how she loved Joleen, she was met with a sharp rebuke: "You do not love Joleen. You cannot love a colored girl from the quarters. And you may never say that again, you must never say that again, to me or to anyone else, particularly" (103). Yet the memory of that early bond persists, and now Maude is determined to rescue Joleen's husband, though she is armed with nothing more than a horse-drawn wagon loaded down with freshly cut flowers. Duff handles the scene with incredible delicacy and suspense, signifying him as a major literary talent.

By 1941, Maude is on her deathbed, but the stories continue to weave the family together as her granddaughter is on the scene. We hear about the death of Maude's son, Richard, who survived the Great War in Europe only to die working for a logging company in the Piney Woods. And then there's a brother, Lewis, who at news of the oil boom at Sour Lake "left home so fast he had to carry his goods in a cut-down cotton sack, shouting from the road at me that the next time I saw my brother he'd be riding in a shiny automobile belonging to nobody but him" (149). Lewis did get his new car, but he also became blinded as a result of an unfortunate encounter at a whorehouse in Beaumont. As this section ends, the family hears the words "Pearl Harbor" spoken on their radio.

Duff's novel makes clear that kinship ties run deep in the Sabine bottomlands, and the power of story is paramount. It is in the telling of tales, the ability to use the right words, that the people of the Holt clan—and perhaps all Texans —secure their identity, along with their relationships to each other. As Maude remarks about her sister's attempt to tell a particular story, "she is fitting all that into a pattern to serve her purpose, but I will not correct or contradict what she needs to believe is true in her story. She must have that as she wants it, and what business of it is mine to deny my sister the shaping of the world which will feed her the nourishment she craves? I grant her that" (211).

Copyright © 2012 The Texas State Historical Association.