News
Monday, 24 August 2015 00:00
Playing Custer Reviewed on Lone Star Literary Life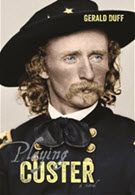 Rod Davis, a Texas-based writer and author of such novels as South America and Corina's Way, recently reviewed Playing Custer on the Lone Star Literary Life website. The review begins:


The multi-voiced, time-jumping narrative in Gerald Duff's latest novel, Playing Custer, recounts the bizarre world and psychologies of reenactors, in this case of the Battle of Little Big Horn. But the spine of the story is surely in the evolution of the long time if cranky friendship between two Texans who after years of communting to Montana to take bit parts in the outdoor drama wind up finding themselves in the prized roles. One becomes General Custer; the other transforms into Crazy Horse, the Sioux war chief whose daring spelled doom on the Great Plans for the 7th Cavalry on June 25, 1876.

To read the review online at Lone Star Literary Life, click here.

To download a PDF of the review, click.