News
Sunday, 13 March 2016 00:00
Playing Custer Named a Finalist in the Category of Best Historical Novel of 2015 by the Western Writers of America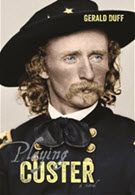 Playing Custer was named a finalist in the "Best Historical Novel" category of the 2016 Spur Awards by the Western Writers of America (WWA). According to the WWA site, the Spur Awards have been given annually since 1953 to honor authors for "distinguished writing about the American West." Spur Awards are given to authors in multiple writing categories, including best western historical novel, best western traditional novel, best biography, best contemporary nonfiction, and best first novel, among others. The winner of the Best Historical Novel Category was Paradise Sky by Joe R. Landsdale. Spur Award Winners in previous years have included Larry McMurtry for Lonesome Dove and Tony Hillerman for Skinwalker.

The WWA, Inc., "was founded in 1953 to promote the literature of the American West."

The announcement of the Spur Award winners and finalists were made on March 12 at the 2016 Tuson Festival of Books. To read the Washington Post's coverage of the awards, click here.