That's All Right Mama: The Unauthorized Life of Elvis's Twin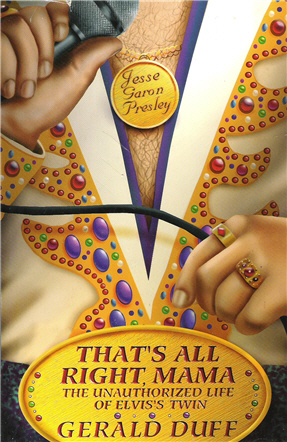 Now available on Kindle!
Did Elvis's identical twin, Jesse Garon Presley, really die at birth? Not according to Lance Lee, the hero of Gerald Duff's darkly comic dissection of fame and rock 'n roll. Lance Lee, who makes his living as an Elvis imitator, claims to be the long-presumed dead twin. In a style that faithfully reproduces Elvis's plaintive bravado, Lance-Jesse recounts being hidden away and passed off as Elvis's "cousin" until he needs to impersonate Elvis to stave off bullies at school; later, he is obliged to "play Elvis" every time The King has an attack of nerves.  As performing substitute, Jesse has had a lifetime to enjoy being a goodtiming, honeyloving, non-drug-dependent Elvis.
Selected Reviews of That's All Right Mama
"Serious literary fiction about Elvis? You bet! Duff's transcendent prose swings and sways, whoops and moans in pulsating cadences reminiscent of the King…. The wry, gritty and profoundly moving autobiography of Elvis's identical twin brother who allegedly died at birth. A rich and well-realized tale, even for readers to whom August 16 (Elvis's death date) is just another day."      --Publishers Weekly (starred review)
"Duff's darkly witty novel That's All Right, Mama diddles the language with the same rocking abandon as Elvis thrusting his pelvis. The tale is such a hunka, hunka burnin' hoot."     --Entertainment Weekly
"A wildly funny, dead-on satire of the whole Presley phenomenon…a must for anyone who finds humor and absurdity in the Presley legacy…Gerald Duff has an unerring ear for Memphis dialect, and the book is worth reading for the dialogue alone."     --Washington Post
"Duff ponders the nature of fame, the absurd cruelty of a dysfunctional family and the use of religious icons in American mythology. And he does it with a jaundiced eye and a clear ear…Elvis is a convenient motif to explore the nature of identity and myth-making in late 20th century America…He's joined the mythological Elvis with his earthbound twin in an experiment as funny as it is revealing."     --Boston Globe
"But then – and this is precisely why good literature should be cherished – a work comes along that enables us to see old things with new eyes, that presents the mundane in different lights, which makes the world seem, somehow, less tired. Such a work is Gerald Duff's That's All Right, Mama. Duff stands the Elvis legend on its head and comes up with an Elvis more complex, more sinister. Duff, whose previous novels include Indian Giver and Graveyard Working, is a serious writer about not-so-serious topics. That's All Right, Mama is a wonderful and funny recasting of one of the century's most popular myths."      --Dallas Morning News
"Duff's novel is much more than a rollicking good time – and rollick you will, either from the rhythm of it all or from all the laughing Jesse's tale inspires – it also explains a lot of those posthumous appearances by the King."     --San Antonio Current
"Lawdy, Lawdy, Miss Clawdy, there were two of them! Fasten your seatbelts at this point, kids, because the tale unfolds like a tornado in a Southern storm. It twists, it turns, it cuts across the countryside and doubles back again just to jar you into thinking maybe it could have happened this way…This black comedy weaves pathos and tragedy as if they were identical twins."     --Orlando Sentinel
"Gerald Duff is among the best fiction writers working today. He has a knack for writing satires which also work well as straightforward novels – with profound insights regarding everyday life as we live and encounter it….Though it is a novel and a dark comedy, I consider That's All Right, Mama to be the best Elvis book – fiction of nonfiction –  that I've read to date."     --Nashville Life Magazine
"Gerald Duff has rewritten history, providing a story that is both insightful and full of humor…With his novel That's All Right, Mama, Duff has created a character, Jesse Garon Presley, who is more interesting, more worth listening to, and more appealing than his real-life twin."     --Austin Chronicle
"That's All Right, Mama is an outrageously comic novel."     --Austin American-Statesman
"Duff poses the scenario of twin Presleys in his remarkable recasting of the mythical brothers Castor and Pollux….readers will have to keep reminding themselves that the unforgettable Jesse Garon's autobiography is, after all, only fiction."     --Southern Register
"The real and important truth in That's All Right, Mama is in the delineation of the characters and the life they lead and in the prose, which should be savored again and again. This is deep, dark humor about the inelegant actions of inelegant people, yet the overall impact of Duff's style is of a polished stylist."     --Dallas Northside
"A darkly funny novel…Jesse Garon emerges as a strong and fascinating character in his own right, a survivor in every sense."     --New Orleans Times-Picayune
"It takes someone possessed of a Southern sensibility to write intelligently about the King. In this surprisingly sensitive novel, Duff doesn't dismiss Elvis as merely a fool and a simpleton – although he points out that he did foolish and simple-minded things….Duff tells the story in a kind of  redneck rap that brings to mind the rhythmic patter of Brother Dave Gardner."     --Baton Rouge Magazine
"With Gerald Duff's That's All Right, Mama…rock-based fiction turns the corner….No one has ever created a more evil Colonel Parker, or a more credibly manipulative Gladys, or a more befogged Vernon, and this stems from the fact that Duff knows these people, knows that they might believe the universe had ordained what happened to Elvis….Duff's real triumph within all this is making That's All Right, Mama a really funny book - Jesse's lonely, jaundiced gaze doesn't miss a trick."     --Rock and Rap Confidential, Dave Marsh
"That's All Right, Mama has all the elements of a satirical gem. Duff has come up with an intriguing premise, he's captured perfectly the voice and tone of the Southern ne'er-do-well, and he's peppered the revisionist history with amusing anecdotes."     --Baltimore Sun
That's All Right, Mama: the Unauthorized Life of Elvis's Twin was published by Baskerville Publishers in 1995. It went into a second printing and sold 6000 copies. In addition to the reviews featured above, the Washington Post, Boston Globe, and Baltimore Sun reviews were syndicated, appearing in 113 newspapers.   The novel was optioned by Janet Burrows of Warner Brothers for one year.
---
To obtain copies of That's All Right Mama, order online at: