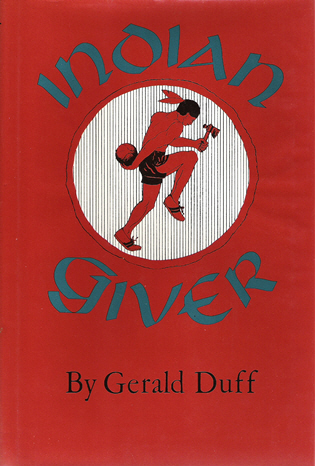 Now available on Kindle!
Sam Houston Leaping Deer follows in a long tradition of American heroes, from Huckleberry Finn to Holden Caulfield, individuals who struggle against a frequently hostile society for psychological survival, for integrity, and for authenticity. Sam is an Alabama-Coushatta Indian trapped between his Indian heritage and white America. Sam is a talented basketball player.  In what might have become a cliche in the hands of a lesser writer, Gerald Duff delivers a powerful work of satire, humor, and tragedy.
Sam has a talent. Basketball. He is the best pure shooter ever to come off the reservation. Putting a basketball through a hoop is for him a mystical, even a metaphysical event.  Roundness seeks circle, the ball "sees," roundness finds circle--and points are scored. His skill takes him from a small Texas town and the reservation to the University of Illinois basketball team, where he immediately becomes a star.   Along the way he meets a cross section of characters and personalities--nervous bobby-soxers in the bus station, an insurance salesman, a corn-fed soldier, fellow players, coaches, girlfriends, teachers, third worlders, "communicators," and assorted phonies of various colors and pseudo creeds. The "story" he is living seems increasingly empty in comparison to his living memories of the Coushatta legends--and therein lies the tension (and power) of this memorable novel.
Selected Reviews of Indian Giver

"With his first novel, Duff creates an American Indian Catcher in the Rye by blending the rich wisdom of Indian legends with a modern tale of a young man's introduction to an empty view of life. Written with humor and irony, Indian Giver is a thought-provoking novel." --Library Journal
"Indian Giver is Gerald Duff's first novel and he gives us a story that holds interest and sparks the mind's reflection. In beautiful metaphor, Indian Giver offers the reader a touch of Indian folklore and myth, especially through the character of the reservation storyteller." --Best Sellers
"Ironic and funny, with a finale that is as sad as it is hilarious, Indian Giver is a fine addition to the long shelf of coming-of-age novels." --Christian Science Monitor
"Indian Giver is a parable of innocence and corruption intertwined with deadly social satire. The novel is an impressive piece of work, entertaining, thoughtful and beautifully written. Gerald Duff has announced himself as a serious new voice worth listening to." --The Anniston Star
"Indian Giver is well-written and entertaining. The writing is rich in symbolism and description, and Duff's insight into Indian culture is obvious. The deeper themes of the novel transform it into more than just an entertaining story, though. Duff's innovative handling of plot shows great imagination and humor." -- Sou'wester
"The novel's many strengths include the author's ability to create some beautifully realized moments with scenes like the one in which Sam, whose tribe holds corn sacred, sees an Illinois cornfield for the first time: it is a moment of almost magical beauty. Highlighted by the cultural overlay of Sam's mystical world (and some good action on the basketball court), Duff's first novel is a rewarding debut." --Publishers Weekly
"Indian Giver is the intriguing satire of a young Alabama-Coushatta Indian's transition from an East Texas reservation to the big-league basketball world." --Memphis Magazine
"The author of Indian Giver, by contrasting the realistic panoramas at the University of Illinois with Sam Leaping Deer's memories of his East Texas reservation, effectively captures the essence of Sam's struggle. The technique of presenting first one world, then the other, is used in such detail that the story flows as smoothly as Sam does on the Illini basketball court." --Memphis Commercial Appeal
"Through the eyes of Duff's Indian hero we see a contemporary America that is mysterious and haunting. After you have gazed through this young man's ancient eyes, you will never again feel quite the same about our familiar world. This gift of new insight is the rarest one a writer can give. Sam Houston Leaping Deer follows in a long tradition of American heroes – from Huckleberry Finn to Jake Barnes and Holden Caulfield --individuals who struggle against a frequently hostile society for psychological survival, for integrity, and for authenticity. In Duff's rendering, Indian Giver is a powerful work of satire, humor, and tragedy." --Scott Sanders
"Indian Giver uses myths of the Alabama-Coushatta Nation of Texas to underscore contrasts between contemporary American culture and a much more dignified though fast-disappearing tribal tradition. On the framework of these contrasts, Duff structures an ingenious, hilarious and touching story about a Native-American youth, Sam Houston Leaping Deer." --Illinois Writers Review
---
To obtain copies of Indian Giver, order online at: