News & Events
News
Sunday, 01 March 2015 00:00
The Story Behind Memphis Ribs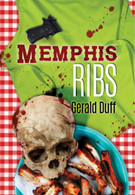 Brash Books will be issuing a reprint of Gerald Duff's novel Memphis Ribs in May 2015. They recently asked the author to detail the story behind the novel--

"Author Gerald Duff shares the story behind the writing of his novel Memphis Ribs, which Entertainment Weekly calls 'A tangy tale of murder, gang warfare, crack cocaine, and barbecue.' As far as we're concerned, that's a winning combination! The book is available for pre-order and will be released on May 5, 2015

When I wrote my novel Memphis Ribs, I did it for the same reason that all writers take up a task that lasts so long and uses up so much electricity. I was mesmerized by the topic, in this case my trying to understand the essence of the Bluff City where I had come to live for a spell. And it was a spell, because that's what Memphis casts upon those who come to live with her.

Memphis is an embodiment of the central paradox of the South. It is both tight and loose, and so are Southerners. Memphis has more churches of every denomination, conducting more worship services, attended by more of the faithful, than any comparably sized city in the nation.

Memphis also has more low dives and honky tonks, more high and low bars, more prostitutes and drug houses, more robberies and gang shootings, more muggings and murders, just generally more of the fast life, than any other metropolitan area in the country. If Nashville, Tennessee's richest city, is about the greed for money and the drive to make it, Memphis is about giving in, abandoning all hope, and having a good time.

Memphis has suffered from calamities over time, including a yellow fever contagion which decimated the city in the nineteenth century and the assassination of Dr.King in the twentieth century which dealt the finishing blow to Memphis's status as a contender in the big world of growth and commerce. For the commercial hopers and city planners, these disasters were apocalyptic, but for the writer they created a climate and culture conducive to dream, disillusionment, regret, and loss.

The advantages for a novelist are clear and compelling. All is vanity, endeavor is doomed, and success is fleeting, evanescent, and gone. That's the country where a novelist feels most at home.

How all this influenced me as a chronicler of a fictional pair of police detectives – one black, one white – trying to solve some crimes in the Bluff City is clear enough. Memphis and its contradictions and energies and despair and humor emboldened me to try to capture in fiction some of its toughness, violence, obsession with barbecue and beautiful women, its racism and restiveness, and its hard-edged hilarity. I tried to do so by casting as a Memphis homicide cop a man in North Mississippi I had come to know. He was an independent cotton farmer, a Vietnam veteran who wasn't outwardly bothered by his year in that war as a combat infantryman, and a man completely at ease with himself. He drank copious amounts of bourbon without seeming to become drunk, he loved his wife, and he had many friends, black and white, who admired and gave him great room and latitude. His fictional partner in the novel knows him to the core.

All I'm trying to do in Memphis Ribs is to show how Danny M. would act if called upon to sort out some crimes in the Bluff City. In my attempt, I hope I've captured some of the gut and soul of that city on the big river that flows through the heart of America."
To read the story, with online comments, at the Brash Books site, and to find out more about pre-ordering, click here. Brash Books publishes "the best crime novles in existence."

News
Saturday, 03 May 2014 00:00
Memphis Mojo Reviewed in the Anniston Star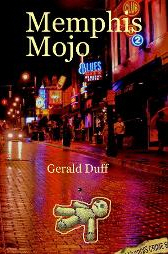 Steven Whitton, Professor of English at Jacksonville State University, reviewed Memphis Mojo in the May 4, 2014, edition of the Anniston Star. Professor Whitton writes:
Over the course of 17 books, Gerald Duff has proven himself a Southern treasure. His novels and short stories are as remarkable as his poetry and memoirs. Want Southern short stories as good as any contemporary fiction around? Try "Fire Ants" or "Decoration Day." Want a lyrically honest contemporary Southern memoir? Embrace "Home Truths."
Ever willing to venture into new territory, Duff has written a couple of droll, sometimes dark, crime novels. "Memphis Ribs" introduced readers to J. W. Ragsdale, a former Mississippi cotton farmer eking out a living as a Memphis homicide detective. Now Ragsdale is back.
"Memphis Mojo" begins in a local International House of Pancakes where a gang of four has gathered to discuss — sometimes loudly — all sorts of stuff, including their next caper. Things aren't going very well.
Across the restaurant sit J. W. Ragsdale and his partner, Tyrone Walker, who don't see eye to eye on much — except for making sure, with tongues firmly in cheeks, Memphis is a safe place for the rest of us.
Ragsdale and Walker serve as straight men, essentially, for a wonderfully bizarre collection of misfits, all so beautifully quirky as to be worthy of the pen of, say, Donald Westlake. Beulahdene Jackson, in her little brown house on a run-down Memphis street, has just become the victim of a home invasion. Outraged councilwoman Ovetta Bichette (contemplate some of her nicknames) is using a missing high-school student to shore up her public image.
Across town, Jimbo Reynolds is looking for a new cathedral for his Sun-Up Ministry of the Big Corral, his latest religion-based scam in which God is the Boss, believers are Range Hands and Jimbo is the appointed — er, anointed — Holy Range Foreman, whose job is to teach the "Cowboy's Prayer." It's all about "love, money, or networking" to Jimbo.
Oh, and there's Randall Eugene McNeill, street name Do Run Run, who's been answering to the name Colorado since becoming Jimbo's latest acolyte. Colorado's staying away from Central High School and seems to be spending more and more of his days channeling Ricky Nelson for advice.
All of this comes together in brilliantly convoluted, wholly satisfying fashion. Pretentions are skewered while Memphis is celebrated in the wry, wicked and completely winning "Memphis Mojo.: Duff's got just enough of the old mojo and that's a good thing, a really good thing.
To read the review online at The Anniston Star, click here.
News
Thursday, 10 April 2014 00:00
Memphis Mojo Reviewed on Sounds Good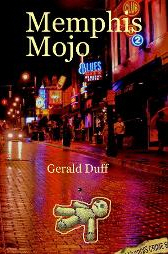 Memphis Mojo was reviewed by Darragh Doiron, a reporter for the Port Arthur News, in the April 8, 2014, edition of her blog, Sounds Good--

Lamar press releases Duff's 'Memphis Mojo'
When a book looks good, you just get into it.
The first page begins the story in a diner, with "eggs scrambled just this side of too dry," causing the customer to chew more than he wanted to. Since I've recently visited Memphis, the cover caught my eye. I was a few chapters in before I noticed the author's name, Gerald Duff, and recalled a local East Texas connection. Another of his books was sent to The News for review, and I liked it. Lamar University Press released this new novel, which includes a pair of policemen who razz each other about romance and excess weight as much as they right the wrongs of Memphis. There's also Jimbo, who's running a cowboy church. I don't even want to reveal any more. I'm just glad Duff is at it again. This is a follow up to "Memphis Ribs."
Ms. Doiron's blog is "a compilation of her columns, Culinary Thrill Seeking, Community Scoop and Sounds Good." To read the complete review online, click here.
<< Start < Prev 1 2 3 4 5 6

7

8 9 10 Next > End >>


Page 7 of 26