News & Events
News
Thursday, 07 November 2013 00:00
Gerald Duff Reviews Rod Davis' New Novel South, America


Gerald Duff reviews South, America, a new novel by acclaimed writer Rod Davis, on the website Southern Literary Review. Duff writes that South, America
"...provides a mystery, the first in what promises to be a series featuring a part-time writer, TV announcer, private investigator, Vietnam veteran, and world-weary survivor named Jack Prine. He lives in New Orleans, but not in the French Quarter. Instead he prefers a location in what he believes to be a more realistic and honest part of the Big Easy, a section known as Faubourg Marigny, downriver from the Quarter and characterized by having less character than the Vieux Carre. It is on the edge of significance and metaphor, and that's where Jack Prine has learned he can best endure the life he now leads.
Davis presents a piercing look into the heart of the geographic and emotional location of his protagonist and his journey from jaundiced estrangement into a renewed connection with the ordinary definition of what it is to be human."
To read the full review online, click here.
News
Thursday, 15 August 2013 00:00
Fugitive Days Reviewed on Chapter16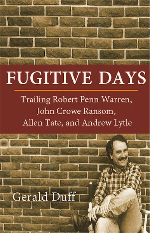 Fugitive Days was reviewed by Ed Tarkington on August 14, 2013, on Chapter16. Mr. Tarkington writes:
"All the Fugitives' Men

In a new ebook single, Gerald Duff delivers personal recollections of the Agrarian poets

Acclaimed author and literature professor Gerald Duff first published his recollections of the Fugitive/Agrarian poets in the May 2012 issue of the Southwest Review. This brief and lively essay, now available as an ebook single by NewSouth Books, is less an analysis of the Fugitives' works than a description of a young professor's interactions with Robert Penn Warren, John Crowe Ransom, Allen Tate, Donald Davidson, and Andrew Lytle.
Duff served in the English Departments at both Rhodes College in Memphis and Vanderbilt University in Nashville, among others. In 1966, when he was fresh out of graduate school, he accepted a last-minute appointment to teach two sections of literary criticism at Vanderbilt. As he recounts in Fugitive Days, Duff is awestruck to discover that the other instructor of the course is none other than Allen Tate, one of the chief architects of the New Criticism, which became the dominant mode of literary analysis in the United States for most of the twentieth century. The book deftly illustrates both Tate's humility and professionalism and his awareness of his significance to the young acolyte.
Some of these sketches seem intent on demystifying their subjects. We see Robert Penn Warren smearing butter on a dinner roll, musing on how one can detect from the butter's taste what the cow last ate before the cream was produced, Allen Tate conferring with his young colleague about how best to engage Vanderbilt undergraduates in Wordsworth's "Preface to Lyrical Ballads," Andrew Lytle reciting a dubious anecdote about a visit to his New York publishing house, etc. The subtext, however, is the journey of a new-minted scholar as he finds his way, eager to spend any moment he can in the company of his heroes. In one anecdote, Duff arrives early at Ransom's home to drive Warren to the airport, hoping to steal a few extra minutes in the company of both great men. On a different occasion, driving down Thompson Lane with Lytle in the passenger seat, he slows the car so as not to arrive at his destination before Lytle finishes telling his story.
The final effect of this essay is to emphasize Duff's heartfelt reverence for a group of men who revolutionized the practice of both poetry and literary criticism, and who brought to the South the artistic and intellectual credibility that paved the way for Faulkner, Welty, O'Connor, and their heirs. Even in their most human moments, through Duff's eyes, the Fugitives remain larger than life. "The poets and novelists and essayists and editors constituting that group at Vanderbilt and Kenyon and Sewanee were onto something when they announced a desire to flee from what the world around them insisted was important and lasting and real," Duff writes. "No, they'd said, each in his own way, I'll be fugitive from all that for a time. And why? Because it satisfies my imagination to do so." Fugitive Days is both a witty insight into the real lives of these monumental men and a charming reminder of the excitement anyone feels at the chance to bump up against his heroes."
To read the review online, click here.
Fugitive Days is available from NewSouth Books for Kindle, Nook, and iPad. For more information, click here.
News
Wednesday, 24 July 2013 00:00
Gerald Duff and That's All Right Mama Featured on France Culture Pod Cast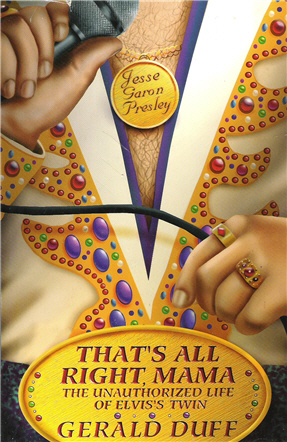 Recorded earlier this year in Memphis, Tennessee, with France Culture host Michael Pomarede, Gerald Duff reads from That's All Right Mama for a pod cast devoted to the life and times of Elvis Presley. Mr. Duff is joined by Peter Guralnick, Elvis biographer and author of two books, Last Train to Memphis: The Rise of Elvis Presley and Careless Love: The Unmasking of Elvis Presley, and Alanna Nash, author of Elvis and the Memphis Mafia and Baby, Let's Play House: Elvis Presley and the Women Who Loved Him.

The pod cast is available on the France Culture site. Pour écouter, cliquez ici!

<< Start < Prev 1 2 3 4 5 6 7 8

9

10 Next > End >>


Page 9 of 26