News & Events
News
Friday, 07 June 2013 00:00
Gerald Duff and Dirty Rice Highlighted in Acadiana Profile Article on myNewOrleans.com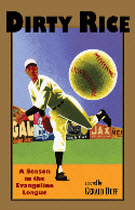 "A League of Their Own," an article by Ryan Whirty featured in the Jule-July 2013 issue of Acadiana Profile, details the 24-year run of the Evangeline League, a six-team class D baseball league based in and around Louisiana. The article quotes Gerald Duff multiple times, referencing Dirty Rice as "a fictionalized but research-based work."
To read the complete article online at myNewOrleans.com, click here.

News
Tuesday, 21 May 2013 00:00
Dirty Rice Awarded Silver Medal by the Independent Publisher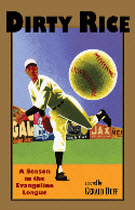 Dirty Rice has been named a 2013 Regional and E-Book Silver Medalist by the Independent Publisher as part of its 17th Annual "IPPY" Award contest recognizing excellence in independent publishing. The IPPY Regional and E-Book Award categories were added in 2006; books in these categories are judged against books representing the same region. Dirty Rice was awarded the Silver Medal under "South - Best Regional Fiction," which included:

South – Best Regional Fiction
Gold: The Politics of Barbecue, by Blake Fontenay (John F. Blair Publisher)
Silver: Dirty Rice: A Season in the Evangeline League, by Gerald Duff (University of Louisiana at Lafayette Press)
Bronze: Bad Way Out, by C. Hoyt Caldwell (Indie Uprising Media)
For more information on the IPPY Awards, click here. To download an annoucement containing a list of all awardees, click here.

With this award, Dirty Rice has been named one of the 25 best novels published in 2012 by the St. Louis Post-Dispatch, named a finalist by ForeWord Reviews for Book of the Year in the general fiction category, and awarded a silver medal by the Independent Publisher.
News
Sunday, 28 April 2013 00:00
Gerald Duff Profiled in The Examiner, the Independent Voice of Southeast Texas


Gerald Duff was profiled recently in The Examiner, an award-winning newspaper representing Southeast Texas. Authored by Kevin King, the article, entitled "Set in Southeast Texas," details Duff's roots in the area and his continuing literary connection to his native home.
Mr. King writes:
"Despite moving half way across the country (he currently lives in Lebanon, Ill.), Duff continues to write about his native home.
'Southeast Texas, as a setting, has much more of an emphasis on interrelationships between people than you might have in New York City," explained Duff, who was born in Beaumont. "In Southeast Texas, it's impossible to escape having to deal with other people on a regular, close-knit kind of basis. That habit of being around people and knowing a lot about them gives you insights and perspectives you can't escape.'"
To read the entire article online, click here.
<< Start < Prev 1 2 3 4 5 6 7 8 9

10

Next > End >>


Page 10 of 26