News & Events
News
Monday, 24 August 2015 00:00
Playing Custer Reviewed on Lone Star Literary Life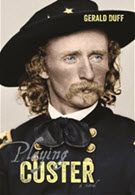 Rod Davis, a Texas-based writer and author of such novels as South America and Corina's Way, recently reviewed Playing Custer on the Lone Star Literary Life website. The review begins:


The multi-voiced, time-jumping narrative in Gerald Duff's latest novel, Playing Custer, recounts the bizarre world and psychologies of reenactors, in this case of the Battle of Little Big Horn. But the spine of the story is surely in the evolution of the long time if cranky friendship between two Texans who after years of communting to Montana to take bit parts in the outdoor drama wind up finding themselves in the prized roles. One becomes General Custer; the other transforms into Crazy Horse, the Sioux war chief whose daring spelled doom on the Great Plans for the 7th Cavalry on June 25, 1876.

To read the review online at Lone Star Literary Life, click here.

To download a PDF of the review, click.

News
Monday, 10 August 2015 00:00
Playing Custer Reviewed in Forward Reviews by Camille-Yvette Welsch



  Camille-Yvette Welsch's review of Playing Custer appeared in Foreward Reviews on August 10, 2015; the following are excerpts. To read the complete review online, click here.

"With multiple players, diverse voices, and characters living over a century apart, Gerald Duff brings life to Custer's last stand and the twenty-first century reenactors who relive it every summer...From Native Americans to former slaves to Custer's own wife, Duff considers the broad spectrum of experience and ideology that came to a head on the Greasy Grass, as it was known to the Indians, aka Little Bighorn. This novel is rife with historical detail, rich characterization, and a sense of the grand impact a single day in history can have."

"In addition to the historical insight and the imagined personalities, Duff walks in the footsteps of Twain, with his understanding of the complexity and hypocrisy of military action, and side by side with Tony Horwitz (Confederates in the Attic), with his revelations about reenacting and the Civil War, adding new chapters to both.

For students of history as well as lovers of the novel, Duff delivers, piecing together historical record with the tenets of fiction—quick pacing, deft characterization, vivid scenes."

The complete review may also be downloaded as a PDF from the Foreward Reviews site by clicking here.

News
Monday, 03 August 2015 00:00
Playing Custer Reviewed in the Anniston Star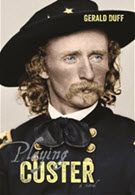 Steven Whitton, Professor of English at Jacksonville State University, reviewed Playing Custer in the August 2, 2015, edition of the Anniston Star. Professor Whitton writes in his review, "The Battle of Little Big Horn, 125 Years Later":
 
The Battle of Little Bighorn has been part of our national consciousness for more than a century. Volumes have examined the event from every imaginable angle. Now, Gerald Duff writes a fictional account of that event, an account that interweaves 18th century and 21st century perspectives into a novel that considers "the mythic history of the United States" from many perspectives, a novel that is an absolute page-turner despite actual foreknowledge of the event.

Before the book begins, Duff reminds us that history is fiction, never truth, and he has found a compelling way to argue that point. It's all part of his novel's structure, which moves seamlessly among the actual "actors" from the actual "drama" — Crazy Horse and Gall and Sitting Bull, Myles Keogh and Marcus Reno and George Armstrong Custer — and the fictional Last Stand Reenactors on the 125th anniversary of the climactic Last Stand on the Little Bighorn.

Waymon Needler and his buddy Mirabeau Lamar Sylestine travel to the reenactment of 2001. Having once played "Patrick Bruce, the raw recruit lately from Ireland," Waymon is this year playing Maj. Marcus Reno, who during the Last Stand "abandoned his command in combat and ran for his life" and "called his abject flight a charge, hoping to forestall criticism of his cowardice even as he was displaying it."

Waymon's role in this year's reenactment is an ironic comment on his life in general. He isn't at all like Mirabeau, who is already claiming convenient Indian ancestry and who can, with little effort, transform himself into Eagle Beak. Waymon is stuck being, as he tells us, "Waymon Needler, teacher of home economics in the public high school of Annette, Texas, no matter what strange garb I donned or makeup and fake beard I put on my face."

That discontent is movingly clarified by Mirabeau, clarified for both white man and red man, as he watches Waymon's hasty transformation into Custer after a last-minute change of reenactors midway through the novel: "to the white man, the real may become a dream and thus vanish. To us, those who lost this land that we didn't even know we had until it was gone, the dream becomes real." Then Mirabeau, too, is given a shot at transformation as he transmutes from Eagle Beak into Crazy Horse.

And the last stand is reenacted once more. But as Gerald Duff recounts the actual Last Stand and the "latest" last stand, his book takes an interesting turn. "Playing Custer" becomes not just history — history is, after all, completed. The participants in the original Last Stand, the only one really, have already made that particular history. "Playing Custer" then becomes about the importance of making our own history by moving into what we are, rather than by reenacting what we think others were.

"Playing Custer" is at times acutely horrifying: Duff's re-creation of the actual Last Stand from many viewpoints can indeed be disturbing. The book, at the same time, can be deeply moving, especially as Libbie, Custer's widow, prepares to visit the wives who were widowed at the same time she was. It can also be wildly funny and unexpectedly affecting, as Waymon and Mirabeau leave the reenactment for other lives, having discovered that, according to Duff: "It all depends on how you're turned and the final direction you decide to head."
To read the review online at The Anniston Star, click here.
<< Start < Prev 1 2 3

4

5 6 7 8 9 10 Next > End >>


Page 4 of 26