News & Events
Appearances
Monday, 22 February 2016 00:00
Celebrate Rock 'n' Roll with the Re-Release of That's All Right Mama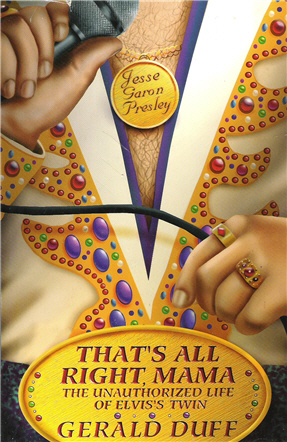 From a recently released press release issued by The Devault-Graves Agency:

"Independent book publisher The Devault-Graves Agency will celebrate rock 'n' roll, books and coffee at its inaugural "Books & Brews" event March 2 at Otherlands Coffee Bar.

Publishers Darrin Devault and Tom Graves will host the event featuring the simultaneous re-release of rock 'n' roll fiction books Stark Raving Elvis by William McCranor Henderson and That's All Right, Mama by Gerald Duff.

Duff, a former professor at Rhodes College, and Henderson will discuss their books beginning at 6 p.m. March 2, 2016.

"We feel that these are the two best fiction books of rock 'n' roll ever," said publisher Tom Graves. "These cult classics have been out of print for years and we've brought them back."

Stark Raving Elvis is a wild and funny tale about an Elvis impersonator who gets a little too far on the edge.

That's All Right, Mama is a hilarious satire that imagines Jesse Garon, Elvis's twin, lived and stayed in the shadow of Elvis, bailing him out of all kinds of trouble.

Each book is priced at $15.95. Anyone who purchases a book at the event will receive a complimentary Devault-Graves coffee mug and cup of Otherlands coffee."

To read, download, or print the entire press release, click here. If you are in the area, be sure to attend!
Appearances
Tuesday, 26 March 2013 00:00
Novelist, Lamar University Alumnus Gerald Duff To Visit the University's Gray Library

News Release - March 26, 2013
Contact: Louise Wood, media specialist, University Advancement, (409) 880-8415
Jim Sanderson, chair, Department of English and Modern Languages, (409) 880-8591
Novelist, LU alumnus Gerald Duff To Visit Gray Library

Gerald Duff, novelist and Lamar University alumnus, will visit the LU campus April 18 to read excerpts from his literary works and discuss his education and memories from the university. The program begins at 7 p.m. on the eighth floor of the Mary and John Gray Library.

Duff will also talk about creative writing to the department's fiction writing seminar students at 1 p.m. in the Maes Building, Room 101.

Duff graduated from LU in 1961 with a degree in English after changing majors from electrical engineering his junior year, during which time, he worked on the Lamar English department's literary magazine "Pulse." He went on to receive a master of arts from the University of Arkansas and a doctor of philosophy in English from the University of Illinois. He has won the Cohen Award for Fiction from Ploughshares Magazine and the St. Andrews Prize for Poetry and has been nominated for the PEN/Faulkner Prize, an Edgar Allen Poe Award and an International eBook Award. Duff's most recent honor is for his novel "Blue Sabine," which won an award of merit from the Philosophical Society of Texas for the best book about Texas published in 2011.

Duff will read from his memoir "Home Truths," which deals with his days at Lamar. He said for him, literature became the "main course" of his education, which led him to pursue graduate degrees in English.

"All other study (mathematical, scientific, and social) is the menu of side courses, the enriching support for literature," he said.

Duff will also discuss passages from some of his most recent novels, "Blue Sabine," a family saga about East Texas, and "Dirty Rice: A Season in the Evangeline League," a baseball novel set in the 1930s in Louisiana.

Funds for the discussions are provided by the Lamar University office of the provost and vice president for academic affairs and the Department of English and Modern Languages.

The Lamar Bookstore will have Duff's works available for purchase. Duff will be available for book signings after the discussions.
For additional information, contact Jim Sanderson, chair of the Department of English and Modern Languages, at (409) 880-8591.
Appearances
Tuesday, 29 January 2013 00:00
McKendree University Hosts a Book Reading, Discussion, and Signing with Gerald Duff

McKendree University, located in Lebanon, IL, will be hosting a book reading, discussion, and book signing with Gerald Duff on Thursday, February 7, 2013, from 5:30 to 5:30. Gerald, who is the former Provost of McKendree, will be presenting his latest novel, Dirty Rice: A Season in the Evangeline League, at Holman Library at 6:00 p.m., followed by a signing at the University bookstore at 7:00 p.m.
A reception at Holman Library will precede the presentation at 5:30 p.m. To download the event flyer (viewed below), click here. To view the event on McKendree's site and add the event to your calendar, click here. Holman Library is located at 701 College Road, Lebanon, IL 62254.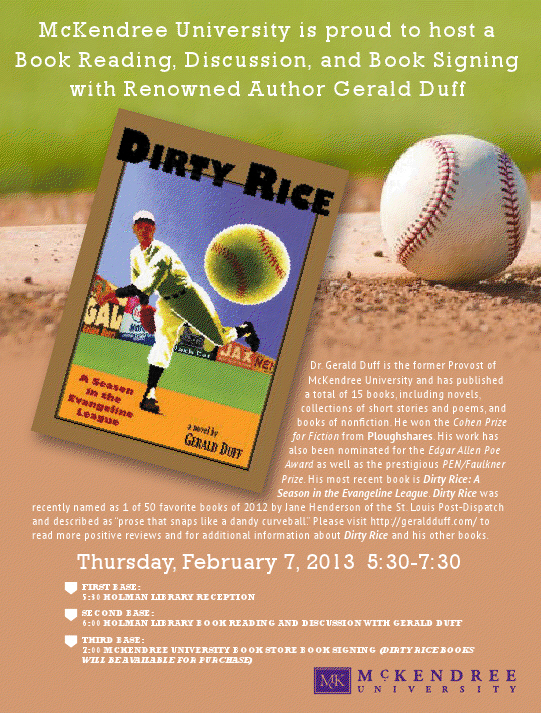 <<

Start

<

Prev

1

2 3 4 5 6 Next > End >>


Page 1 of 6